You read that right...Resignation(s), as in twice. Many people do not know that Kevin had resigned once before he gave his final resignation several weeks later.
It is not disputed that Kevin was a beloved employee who had over the years done a great number of things for the village. Many Villagers will tell stories of how Kevin has saved the village money or that he would come out in the evening during a snowstorm and make sure the roads got plowed. It is well known that over the many years, Kevin had taken on all kinds of tasks so that the Village did not always have to contract a job out. Kevin will be difficult to replace, but there are many myths floating around that must now be dispelled.
Many villagers told the board of directors that they believed that Kevin was some sort of sub-contract worker and therefore could decide his own hours, and that he did not answer to anyone, and he was his own boss.
Although Kevin did not have a set schedule of say specifically 9:00am to 5:00pm, as was claimed by villagers to be an issue, it is just a matter of semantics. It may have been 8 to 4, or 7 till 3. He was required to work a 8-hour day, 40-hours a week. He was able to adjust his working hours to fit the needs of the village, as long as he got approval from his supervisor.
For example, if it snowed and he needed to plow, Kevin could come in at a different time of the day or night if need be. If he worked over 40 hours in the week, he could comp the time in the following week. But he was required to keep his supervisor in the loop.
At the public board meeting on September 6, 2020, Villagers made statements during the recorded meeting such as the following...
It is unknown exactly where some people get their information from, but it was stated by villagers at the meeting, that the information came from talks they had directly with Kevin.
Kevin was, and always had been, an employee of LHV and always had a supervisor that he was answerable to. That person was usually the Board President.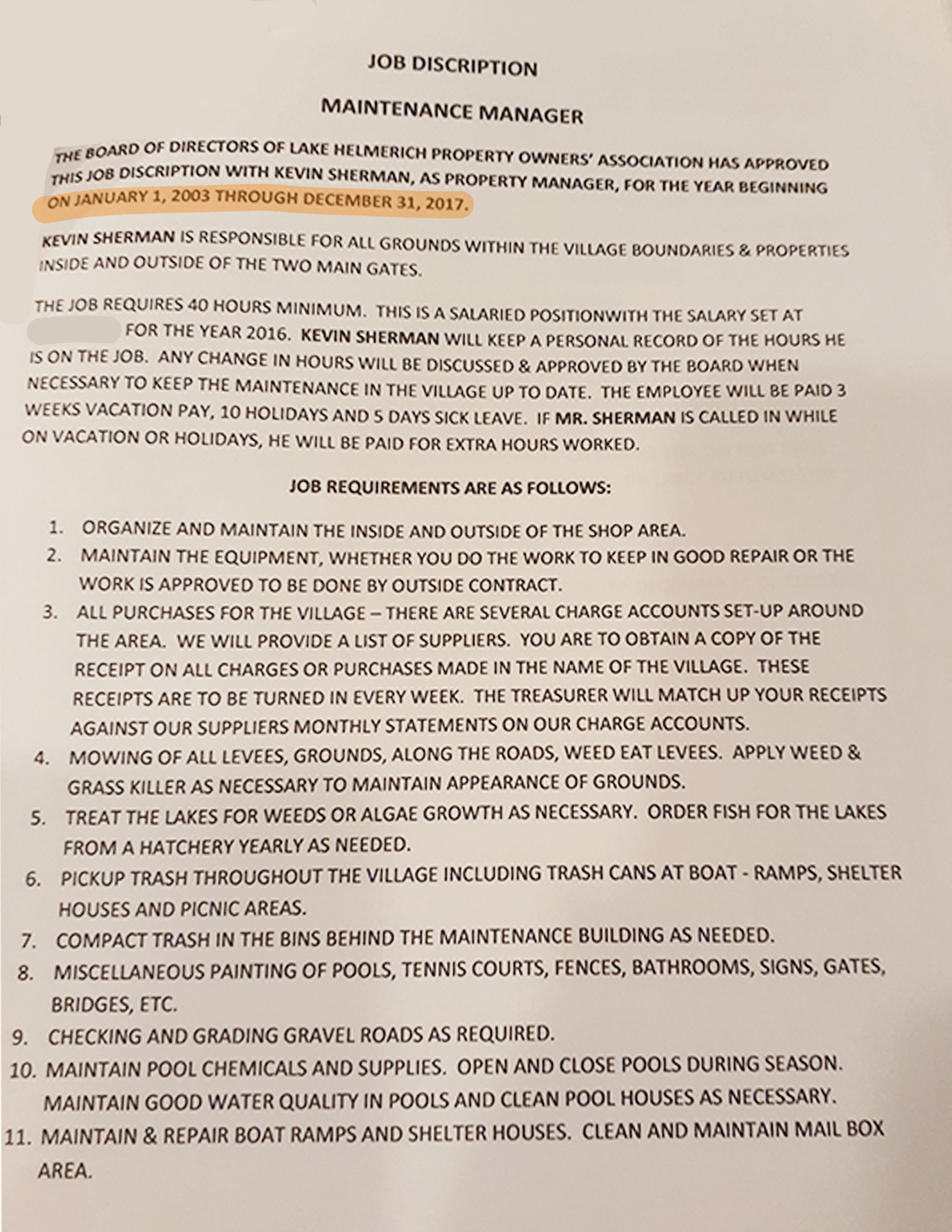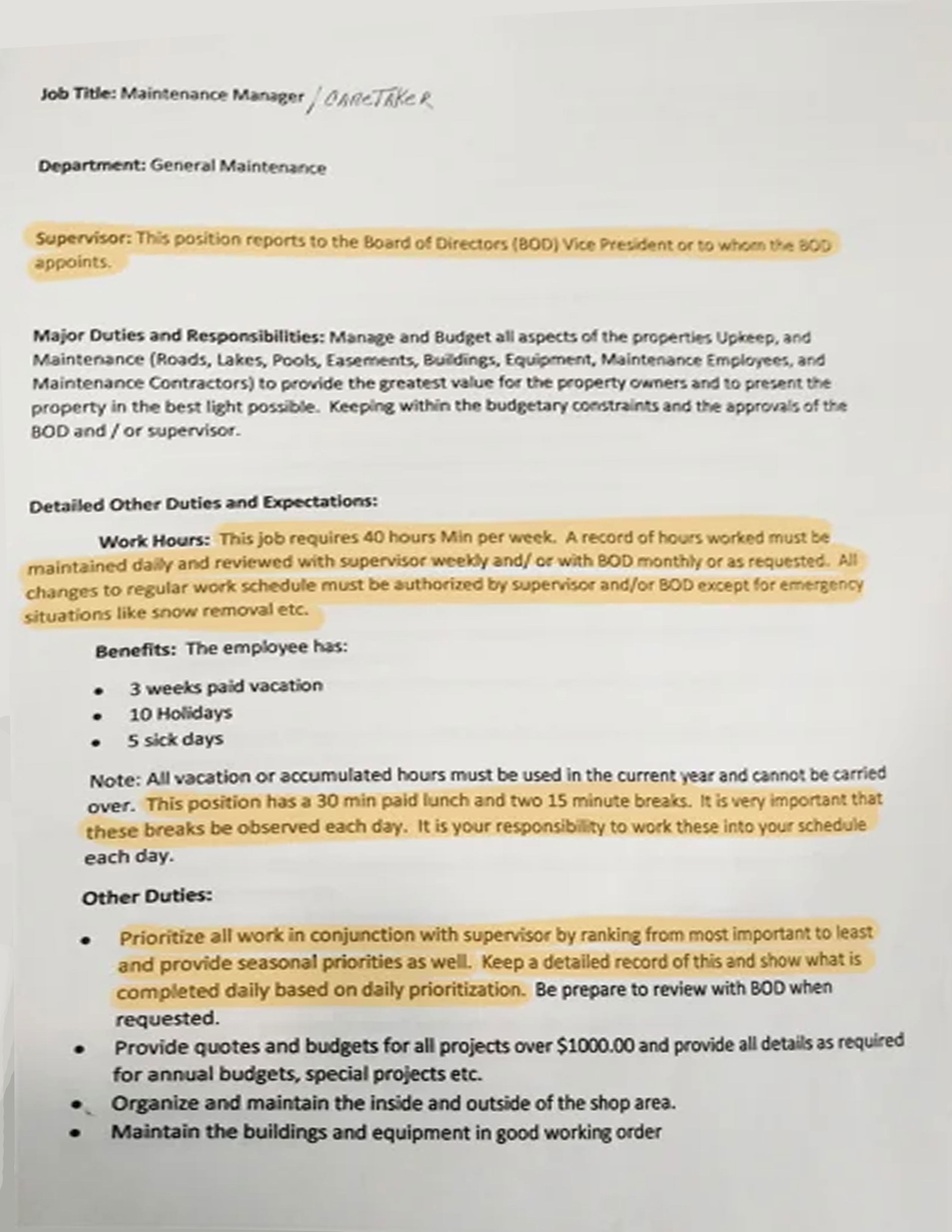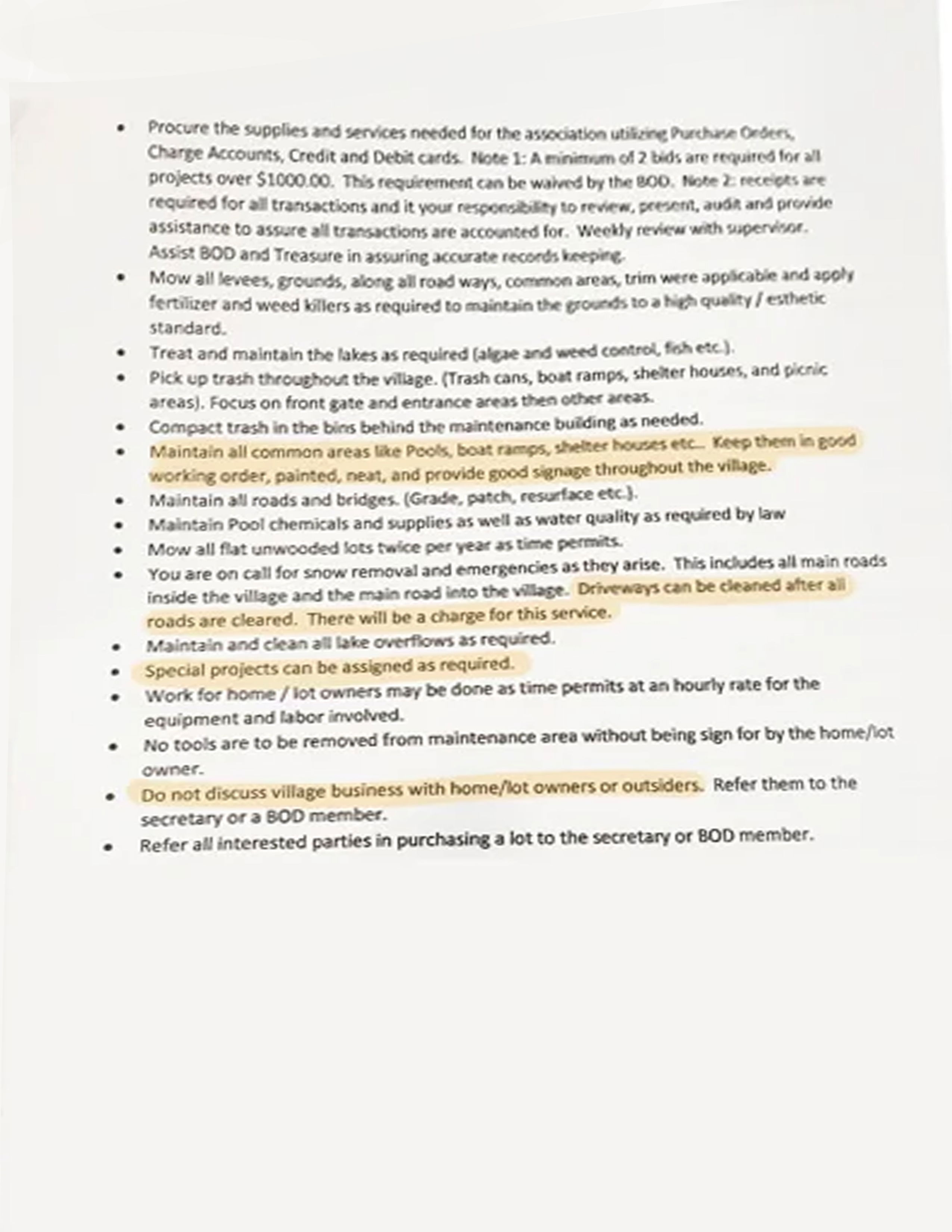 Before the timeclock was installed, (which was decided on by the last acting board almost 2 years ago), Kevin had always had to document his hours for the board. This information comes from many years of job descriptions on file.
Kevin was a salaried employee.
Kevin had a job description written by LHV and he received an annual review and evaluation, by the board, every year to determine his raises.
Kevin was paid for every second he was here doing work for the village.
Kevin did not and has never had free reign to do as he pleased, even though villagers relayed Kevin had told them he was some type of unstructured employee.
Kevin told villagers that he was being bullied, but Kevin never told his supervisor, nor did he ever file a complaint with the EEOC, State, or the board as a whole.
It was discovered later that Mayse and Meyer's stated Kevin had told them he felt like he was being bullied, yet neither Mayse nor Meyer filed a complaint or ever mentioned it to anyone else on the board.
Many villagers stated that they were told that Kevin felt bullied because he was being evaluated. Most businesses have an evaluation process and LHV is no different. There is documentation of Kevin's past reviews.
At the start of the evaluation, board member Robert Bowman recorded the conversation as he read the evaluation process with Kevin. Bowman was cordial and matter of fact. It was also documented that nothing more was ever said to him that day or any day after.
Bowman spent the remainder of the day writing a new maintenance program as was requested by Board President Sarel Pretorius. This was being done to prevent any disruption to the village, should Kevin decide to resign again, or should he be injured or sick. This would allow the village the ability to maintain critical maintenance during any possible absence.
Kevin was asked by Sarel Pretorius to talk at the board meeting and gave him the opportunity to defend himself during the September 6, 2022, board meeting. Kevin did not show up.
Kevin stated in his 2nd and final resignation letter that he was leaving because he had not received a raise in several years. Nothing was ever mentioned about any type of workplace harassment or bullying.
Having to undergo an annual evaluation is not considered to be bullying or a hostile work environment.
After Kevin announced his resignation, Bowman documented numerous physical threats of violence and intimidation from villagers (and others) to him and his family. Many lies were documented, and Bowman later resigned from the board of directors.
Bowman has since retained legal representation.
Indiana Law...What is Workplace Harassment?
Workplace harassment includes sexual harassment and harassment based on protected class. The behavior need not be intentional in order to be considered harassment. Sexual harassment is "unwelcome sexual advances, requests for sexual favors, and other verbal or physical conduct of a sexual nature when:
Submission to such conduct is made either explicitly or implicitly a term or condition of an individual's employment;
Submission to or rejection of such conduct by an individual is used as a basis for employment decisions affecting such individual; or,
Such conduct has the purpose or effect of unreasonably interfering with an individual's work performance or creating an intimidating, hostile or offensive working environment."
Harassment based on a protected class means verbal or physical conduct that slanders or shows hostility or hatred toward an individual because of his/her protected status that:
Has the purpose or effect of creating an intimidating, hostile, or offensive working environment;
Has the purpose or effect of unreasonably interfering with an individual's work performance; or
Otherwise adversely affects an individual's employment opportunities.
What is considered to be a hostile work environment state of Indiana?
Hostile work environment claims often involve sexual harassment, but not always. A workplace may also be hostile based on race, sexual orientation, national origin, gender, age or some other form of discrimination.
While Kevin was here as an employee, the board attempted to keep these issues private out of respect for Kevin and believing we would be able to correct work issues we had with him.
Kevin, Mayse and Meyer made the notes public knowledge by sharing it with the community.
The LHV Board of Directors tried to encourage a healthy employer / employee relationship.