Robert Bowman, who had been voted on to the board of directors just last year as the board's Secretary resigned amid a volley of lies, threats and hate filled rants spewed at him after Kevin Sherman's resignation in September 2022. Bowman complained to the board of directors, that he had received numerous threats of violence and intimidation directed at him and his family.
Bowman discussed earlier with Board President Sarel Pretorius and Treasurer Ryan Hilsmeyer about entertaining a corrective action or resignation votes to deal with board members David Mayse and board member Timothy Meyer for, at a minimum conflicts of interest, but also selective enforcement.
David Mayse, was found to be the board member who released confidential information to Mr. Sherman. This was later confirmed when Mr. Sherman told board President Sarel Pretorius, he had received the information from Mr. Mayse.
HOA BREACH OF FIDUCIARY DUTY
Breaking confidentiality
Duty of loyalty (duty of good faith)
Duty of loyalty requires HOA board members to act in good faith to promote the best interests of the entire association. HOA board fiduciary responsibility prevents board members from making decisions to further their personal interests. Board members must also avoid an HOA board of directors conflict of interest. This includes choosing a family / friend sides or voting on issues with a bias.
The opinion was that Mayse and newly elected board member Timothy Meyer were able to convince Mr. Sherman that it was in their opinion that they believed the other board members wanted to get rid of him because they were upset with his performance. "That he was being forced out like they did to Joanne."
Mayse showed a obvious bias and was constantly defending and covering for Mr. Sherman.
In fact the board, even though they may have been unhappy with his performance, had unanimously voted to NOT accept the resignation that Mr. Sherman had sent Board President Pretorius on August 1st. It was decided that a plan of correction was a more appropriate way of dealing with issues and that his yearly evaluation would be carried out as a plan of improvement. It was the boards intention to keep Mr. Sherman.
It wasn't a writeup. It wasn't firing him.
It was going to be a way to address issues and bring to light performance issues that needed to be improved upon.
Below is the standard process that businesses all across the world use.
Process of documenting for the evaluation
Maintain and provide proper documentation in writing of any performance issues, good and/or bad.
Review position description.
Using documentation, managers decide what should be included in evaluation.
Document feedback and progress throughout the evaluation period
Employee's Self Evaluation and discussion of items. (Employee's righ to refute)
Set Goals, monitor goals, provide feedback.
Managers provide final rating with notes.
Review goals with employee.
Summarize evaluation with employee.
Discussion of expected performance.
Acknowledge final evaluation.
Right to Appeal.
At the request of the Board President, Sarel Pretorius and Ryan Hilsmeyer, Secretary Robert Bowman was tasked with the documentation.
A comprehensive, document was compiled from written documents, minutes and meeting recordings. This list was labeled as private for board members only. A notice on the documents clearly stated that it was to only be used as a discussion point for item #3 from above. Board members were to use this file to recolect any prior items and to then discuss each item for merit or no merit. The board as a whole would compile a list of ONLY issues that were deemed to be important enough to be on the evaluation and collectively agreed upon by the board. Mayse was documented as being told he was not allowed to share this initial list with Kevin or have any discussions regarding the upcoming evaluation.
Bowman used the standard evaluation format as a guide.
Which include:
!. QUALITY OF WORK –Completion; accuracy; professional; or technical proficiency. Care for quality workmanship. Attention to detail. Pride in craftmanship.
2. WORK HABITS- Planning and organization of work; care of equipment and supplies. Time management.
3. RELATIONSHIP WITH PEOPLE- Ability to get along with others. Effectiveness in dealing with the public.
4. DEPENDABILITY- Degree to which employee can be relied upon to work steadily and effectively; punctuality; regularity of attendance.
5. QUANTITY OF WORK- Amount of work performed.
6. TIME MANAGMENT - Is time used wisely.
7. INITIATIVE - Resourcefulness; versatility; originality; ability to conceive and carry out program improvements.
8. ABILITY AS SUPERVISOR - Proficiency in training employees. In planning, organizing, laying out work for work unit. Activity in promoting cost reduction leadership.
9. ADMINISTRATIVE ABILITY- Promptness of action; soundness of decision; application of good management principles.
10. CONFIDENTIALITY - Gossiping, rumoring, personal or company information and dissemination of company information.
11. SAFETY- Application of accident prevention techniques and proper use of safety equipment.
12. OTHER:
13. Attitude - Overall attitude and effects on workplace and employees.
Mayse was told numerous times about the process and that it was to be used to make a finalized evaluation from. Mayse could never get passed being angry about the list, stating he thought they were all lies. (Even though they were documented from meeting recordings.) Mayse was documented in recordings in discussions regarding most of the issues.
Mayse now, made demands that we should not be putting anything in writing and that we should not be documenting anything. He demanded, as did Tim Meyer, to destroy the documentation.
Mayse wanted to just forget the performance issues and to allow Kevin to get a fresh start by giving Kevin some goals instead. He wanted to refrain from dealing with issues the rest of the board believed had become problems that needed to be dealt with. Mayse attempted to stop the process in an effort to cover for Mr. Sherman and to be able to sabotage the boards efforts. Mayse blame shifted nearly all the items listed, claiming the failures were strictly because of the board.
Still, Mayse and Meyer's appeared to have convinced Mr. Sherman that he was not wanted. They worked Mr. Sherman up so bad, that he may have felt he needed to quit.
Mr.Sherman would only talk to Mayse and Meyer, and for some reason failed to talk to his supervisor, Sarel Pretorius about it. Mr. Sherman should have dealt with the issues by contacting his direct supervisor instead of relying on Mayse or Meyer's to be his spokesperson.
Mayse was believed to have also be reponsible for the release of documents to others in the community.
Mayse eventually stated he would call and ask Mr. Sherman to contact Sarel directly.
Other issues with the board.
Also discussed with Pretorius and Hilsmeyer was the August attack on Bowman by Mr. Meyer. Bowman had threatened to file a restraining order against Meyer but was later convinced to drop it.
Meyer, later went on to threaten a villager during a board meeting on September 6, 2022. Meyer continued his attack a little more than a week later at the September 15th community meeting. Meyer physically assaulted that same village member, which led to his arrest. Official police reports stated that he was also given a breath test which showed Meyer was intoxicated during that same meeting. Meyer had driven to the meeting with a BAC of .08, endangering everyone in the village.
At that same September 15th meeting, a number of reports from villagers and board members alike stated concern that they believed board member David Mayse was also possibly intoxicated during the meeting.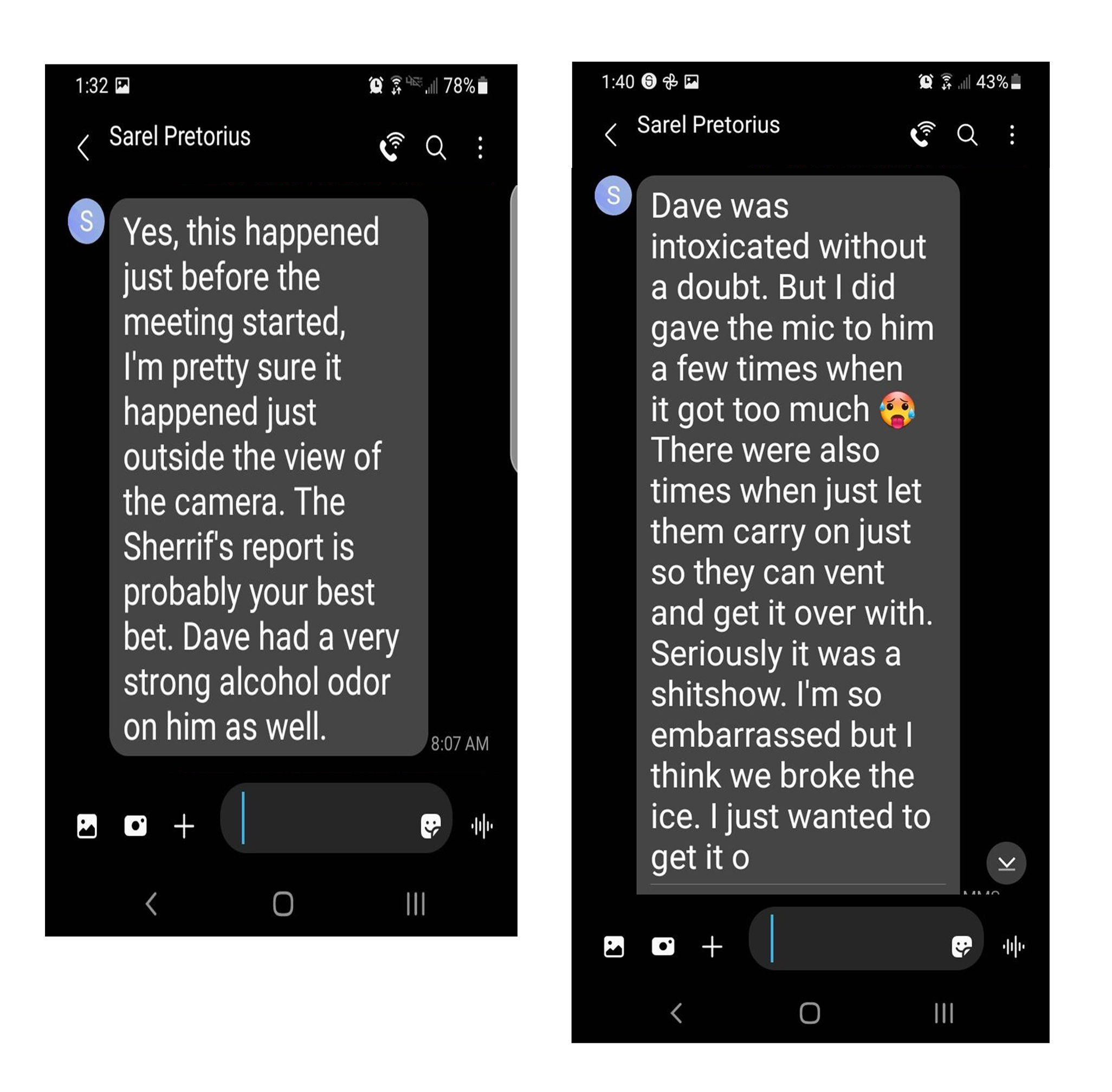 Bowman was unhappy with the actions of both Mayse and Meyer as a breach of their fiduciary responsibilities, besides being ethically not in keeping with the standards of the LHV community. Bowman was unhappy about being attacked by Meyer's in August, plus the actions of Mayse and Meyer and the damage they helped cause to the community.
Bowman was asked by Board President Sarel Pretorius to obtain a copy of the police report and to download the surveillance video for review.
Bowman stated that there were discussions regarding asking for the two board members to either resign, censure them or remove them from board positions. Discussions were that the board should ask for some sort of sanctions against the two board members to get across that this type of behavior is unprofessional and unwanted by the board and not keeping with the villages ethical standards.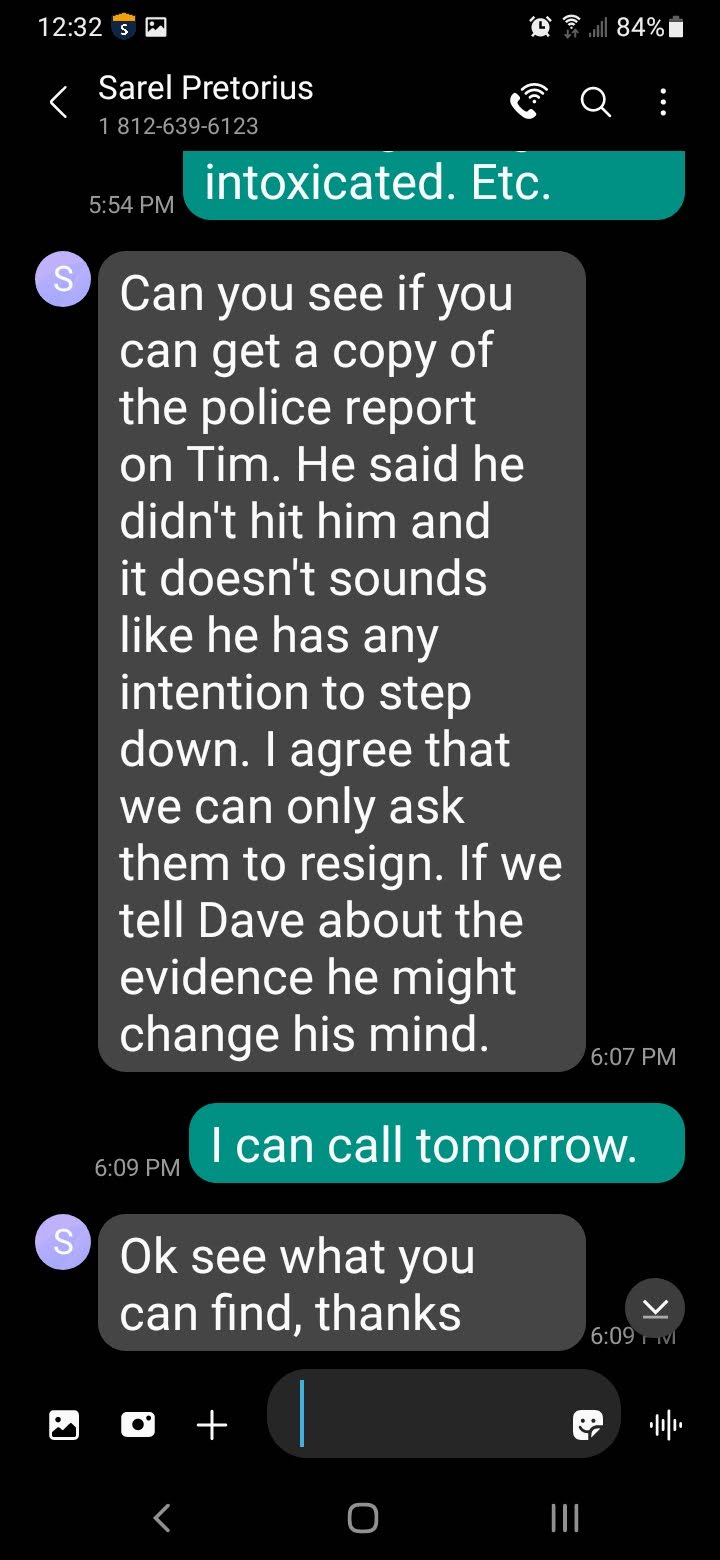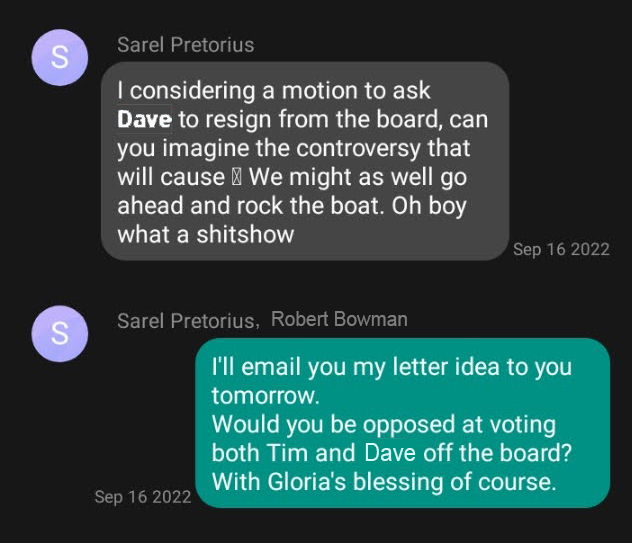 After being asked to get the police report and view the video of the assault on a villager by Meyer. Hilsmeyer told Bowman before the September 22, 2022 meeting began, he was no longer interested in seeing the report or interested in seeing the video.
Watch Video 3 and 4 of blog Board member assaults villager.
Bowman stated that other board members seemed to want to try to distance themselves from the problems created by Meyer's assault. Hilsmeyer stated that it shouldn't have anything to do with the board because they felt Meyer had not yet stepped into the building for the September 15th meeting. Even though he was within two feet of the actual doorway and the fact that the meeting was to start at 6:00pm and the officers report stated the altercation began at 6:02pm.
Pretorius stated at the September 22, board meeting, that we as the board should try to just move forward. In essence ignore it.
The refusal of the board to maintain a level of care (duty of care) to provide a safe environment and uphold the rights of the Villagers, makes it potential that the organization, and not just its individual board members, could be held responsible if a court of law finds that the organization was negligent in it's duty.
This left the board in a situation that potentially created or at least increased the exposure to liability, such as:
Actions and activity that could knowingly or negligently cause injury, harm or damage to persons or property. (No sanctions or repercussions for public endangerment by driving intoxicated on LHV property or assault by a board member)
As a board member, Meyer, being an elected official of LHV and in the public eye, Meyer was a representative of the board whenever or wherever he was on LHV property. It made no difference whether the meeting had started or not. The original altercation was one of a continuing act, that had stemmed from the previous board meeting when Meyer challenged Mr. Worden with physical violence.
LHV deserves better.
Bowman's resignation letter was given to the board on September 28, 2022