There are always two sides to every story.
After Kevin resigned as the maintenance man here at LHV, many lies were spread regarding the reasoning behind his resignation. Kevin spoke with many Villagers regarding his employment at LHV. We know this because Kevin told LHV Board President Sarel Pretorius that he had spoken with various people.
The LHV Board of Directors was given a letter of resignation explaining the reason for his leaving. In the letter it stated his reason was basically because he had not received a raise for the past few years.
Upset Villagers came to the public board meeting on September 6, 2022. Many of those Villagers were told a different reason behind the resignation and were upset with the board members.
Many things had obviously been told to Villagers that were simply not accurate, thus the following is the result.
Tom Kochanski was asked By Sarel Pretorius about speaking with Kevin earlier in the day.
Kevin had already told Sarel he had spoken with Mr. Kochanski the same day.
Mr. Kochanski denied it and told the board that he had not spoken to Kevin in several weeks. This was after Sarel Pretorius stated villagers had only heard Kevin's side of the story. Mr. Kochanski continued to deny the allegations.
Mr. Kochanski had posted on Facebook earlier in the day about his intentions to confront the board and demand resignations. Tom referred to the board as Putin's gang and stated that the LHV board was having secret meetings. Meetings that he felt should have been posted.
When asked, Tom had feigned innocence stating that he was, "not a Facebooker" and had only got on LHVs Facebook within the past several months claiming his wife asked him to.
A simple search on the LHV group on Facebook shows that Tom has been posting consistently on Facebook for many years. Records show since at least May 2015.


The false statements don't just come from villagers...
Board member Dave Mayse tried to side with some villager's notions that there have been no board meeting minutes posted anywhere. Mayse was called out immediately by the rest of the board members for the obvious false statement.
The fact is every board member was sent an email every month by the Secretary with a copy of the minutes. Mayse responded to the emails proving he received the minutes and approved them for corrections. Those emails were documented and saved. Along with audio recordings and texts.
Mayse knew that the minutes were posted on the website because he was at the meeting when the board voted to put the minutes on the website alongside the hard copies in the office binder. Mayse even stated in previous meetings that he believed that the communication with the village had never been better because of the website.
So, for him to say he understood there was a need for better communication and that the board had meetings they shouldn't have, are misnomers.
Other board members believed Mayse was attempting to side with certain villagers in an attempt to undermine the current board. Mayse attempted to sabotage directors with his own personal agendas and bias because he felt Sherman was treated poorly. The opinion is that Mayse intended to drive a wedge between the Villagers and certain board members by making such false statements and by implying the board was having secret meetings and thus doing something wrong. It was an opinion that he wanted the villagers to ask for resignations of board members he deemed at fault for Sherman's resignation.
Statements later gathered from villagers confirmed this.
The next issue of untruths...
At the same September 6, 2022, board meeting, Shawn Worden arrived to speak to the board. His message was mostly about his displeasure of the new gate system.
Mr. Worden admitted that he had also talked to Kevin regarding his resignation with LHV. Mr. Worden stated the Sherman had told him he was being bullied.
Mr. Worden, as with any other Villager has a right to speak their minds and Mr. Worden let the board members know that he did not care for them.
It was at this time that Board member Timothy Meyer became enraged at Mr. Worden and stood up out of his chair, hands balled in fists, puffing his chest out.
Meyers went towards Mr. Worden in a physically threatening manner that would leave one to believe he meant him harm and intimidation. An altercation between the two was only kept at bay by the remaining board members and the other villagers present.
Fast forward to the September 15th, 2022, community board meeting. Meyer continued the altercation by assaulting Mr. Worden and was subsequently arrested.
Watch the videos in the other blog page "Board Member assaults Villager."
But here is what was being said online...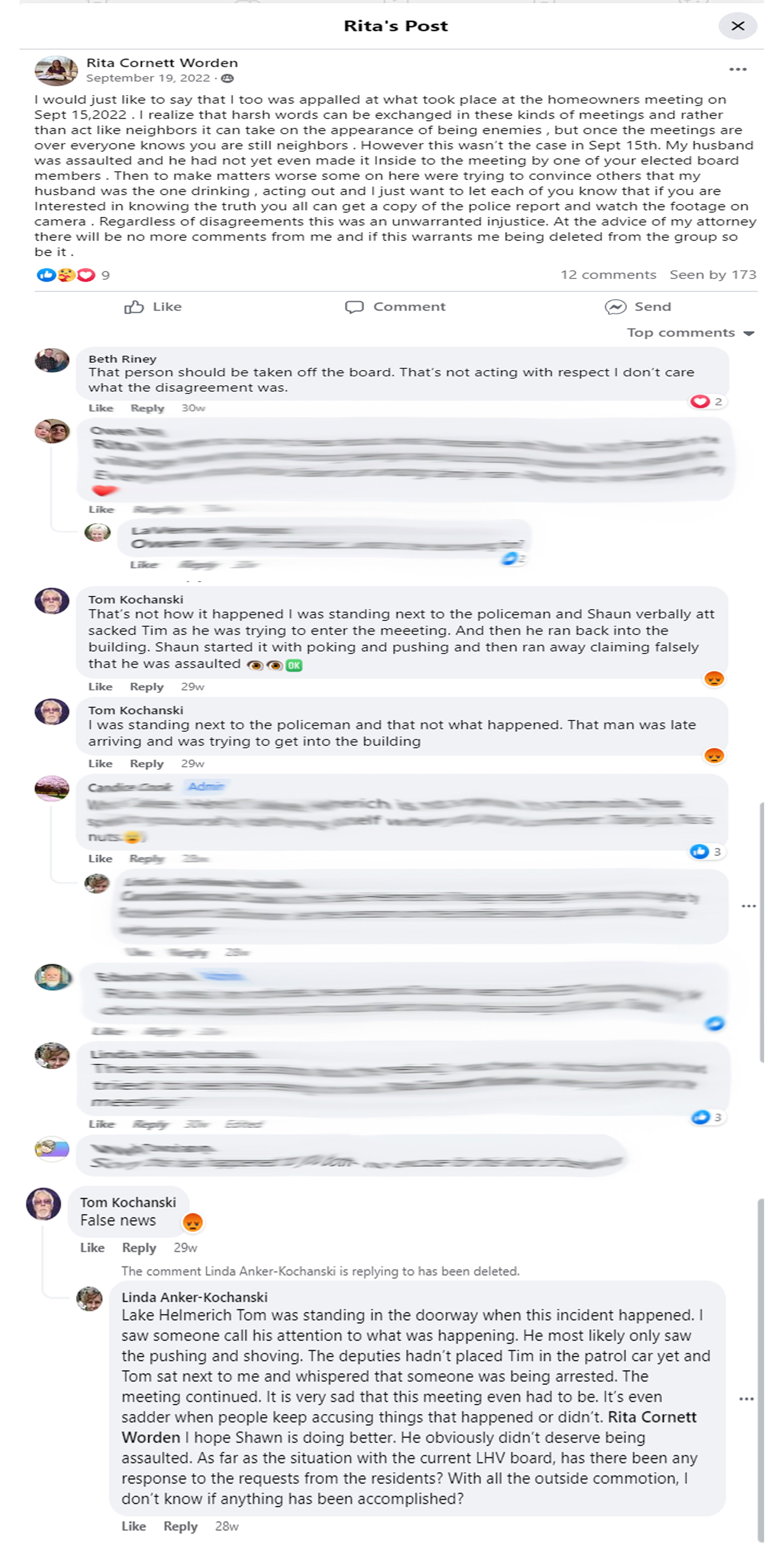 Linda Anker-Kochanski wrote, "It's even sadder when people keep accusing things that happened or didn't." After defending Tom Kochanski's false accusations.
Why the need to embellish?
Who knows, but it has ripped a divide between villagers and board members.
There are always two sides to every story, and a wise man listens to both sides before he speaks.
After reviewing the video and reading the police report, it is obvious Mr. Kochanski does not know what he is talking about. He claimed he was standing next to the officer.
Statements from other members at the meeting stated that Tom was inside the building and away from the doorway when the altercation occurred.
Mr. Kochanski wrote, "Shaun verbally attacked Tim as he was trying to enter the meeting."
The video showed that is not true. The video and the officer's report showed that Mr. Worden did not say anything to provoke Meyer.
Tom Kochanski, "Shaun started it with poking and pushing and then ran away claiming falsely that he was assaulted."
Video and the officer's report showed Mr. Worden did NOT falsely claim that he was assaulted, he was in fact assaulted.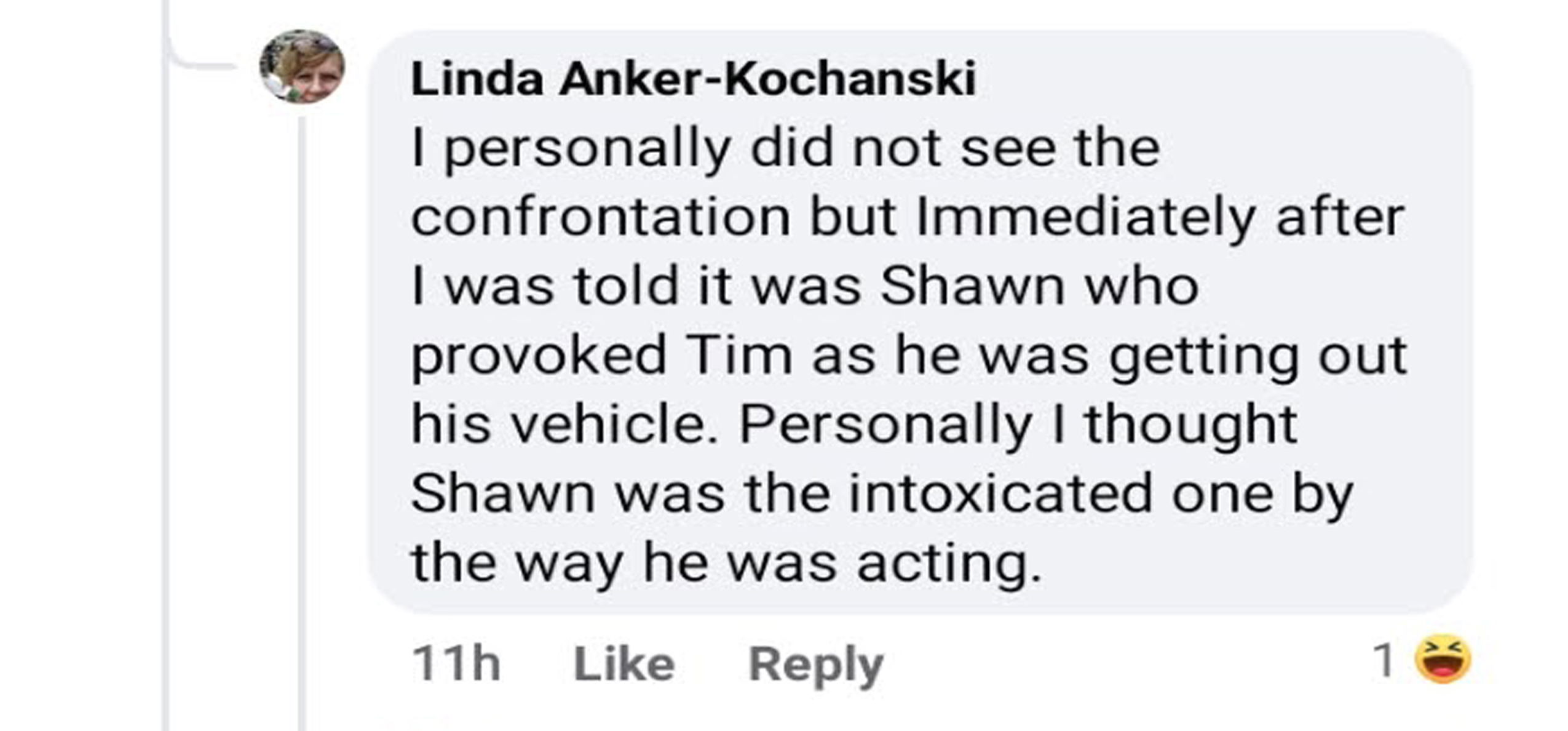 From the video, it showed Mr. Meyer had parked at the rear of the shop.
Mr. Worden had parked to the far South of the shop nearer to the pool and can be seen walking towards the front shop door. A review of the rear video showed Meyer parked and walked around to the front of the building where he stood and waited for Shawn to approach.
Shawn was never seen in the video attacking Meyer at his vehicle as was stated by Linda Kochanski.
It was also discovered by the police that Mr. Meyer's was intoxicated. the Preliminary Breath Test (PBT) done by officers on scene, showed Mr. Meyer had a BAC of .08. Meyer drove to the meeting, potentially endangering all villagers of LHV.
Mr. Meyer later continued to deny assaulting Mr. Worden or resisting arrest.
UPDATE:
July 20, 2023, Mr. Meyer plead guilty to disorderly conduct charges July 20th after making a plea deal on charges related to the September 15th, 2022, assault.
Pike Circuit Court Judge Jeffrey L. Biesterveld accepted the plea agreement to dismiss the charges of battery and resisting arrest if Meyer agreed to plead guilty to disorderly conduct. Judge Biesterveld sentenced Meyer to (180) days imprisonment, he received 4 days total credit for time served, and suspended 176 days. The remaining time to be served was suspended (176) days. All of which must be served on probation.
Question for the Villagers:
What do you deem as appropriate behavior from your elected board members?
Do you feel intoxicated board members should be making decisions on your behalf? Let alone driving around the village intoxicated?
You decide.
As always, be careful who you believe. Fact check it first. Spreading lies might be doing more damage to the community or individuals than you know. Don't be surprised that everything you write online is being saved by someone or recorded by someone.
Anything posted or talked about that is a proven truthful statement is an affirmative defense and thus not considered defamation. Thus, make sure you have your documentation.