See the video for yourself.
All the information can be found in public records.
On September 15, 2022, at the Lake Helmerich Village board meeting, board member Timothy Meyer was arrested and charged with assault by the Pike County Sheriff's Office. The police officer's report stated that Meyer also resisted arrest and was intoxicated. As well as he was believed to have driven intoxicated to the meeting but not charged with DUI.
Police report along with the Indiana court filings, and video evidence, are public knowledge.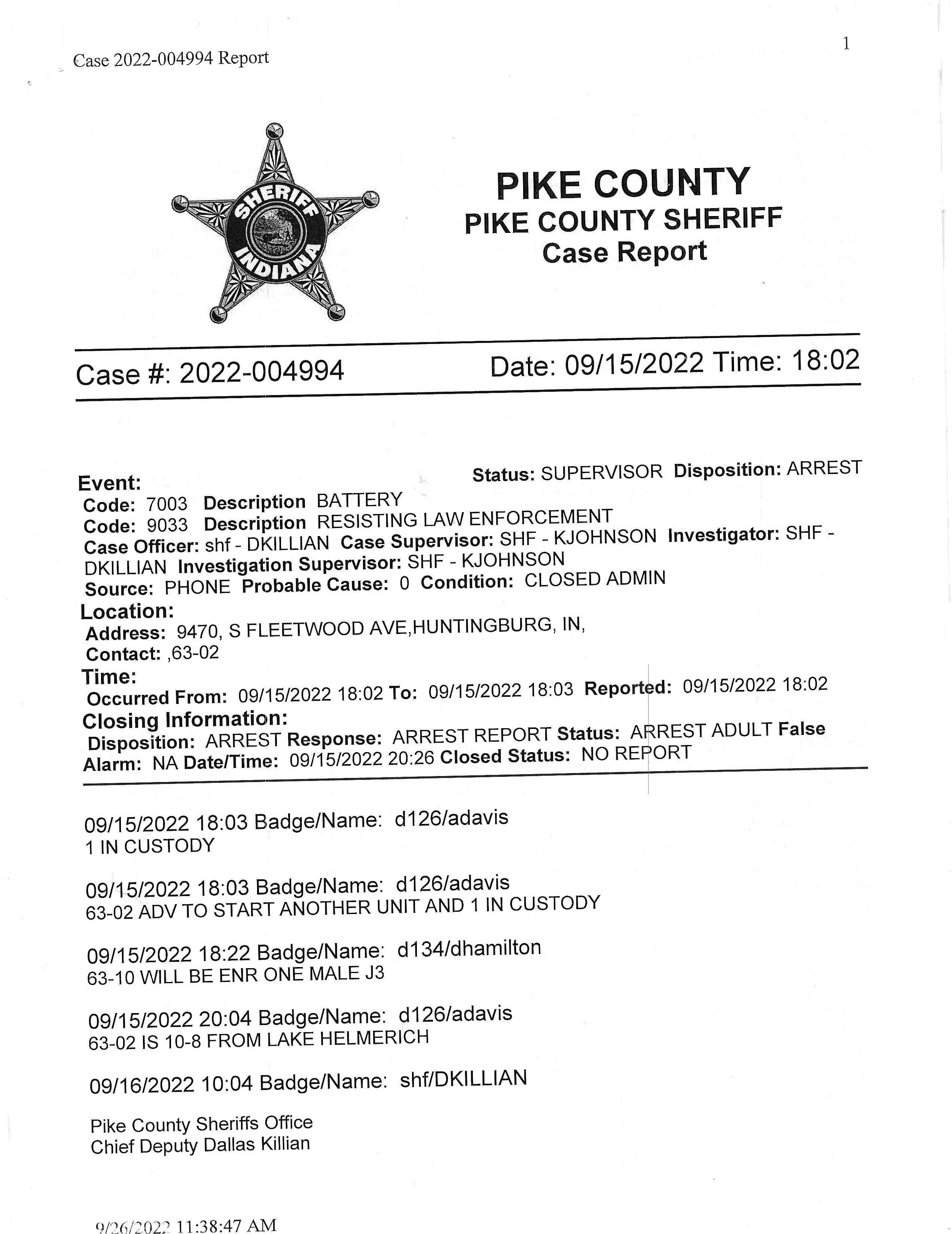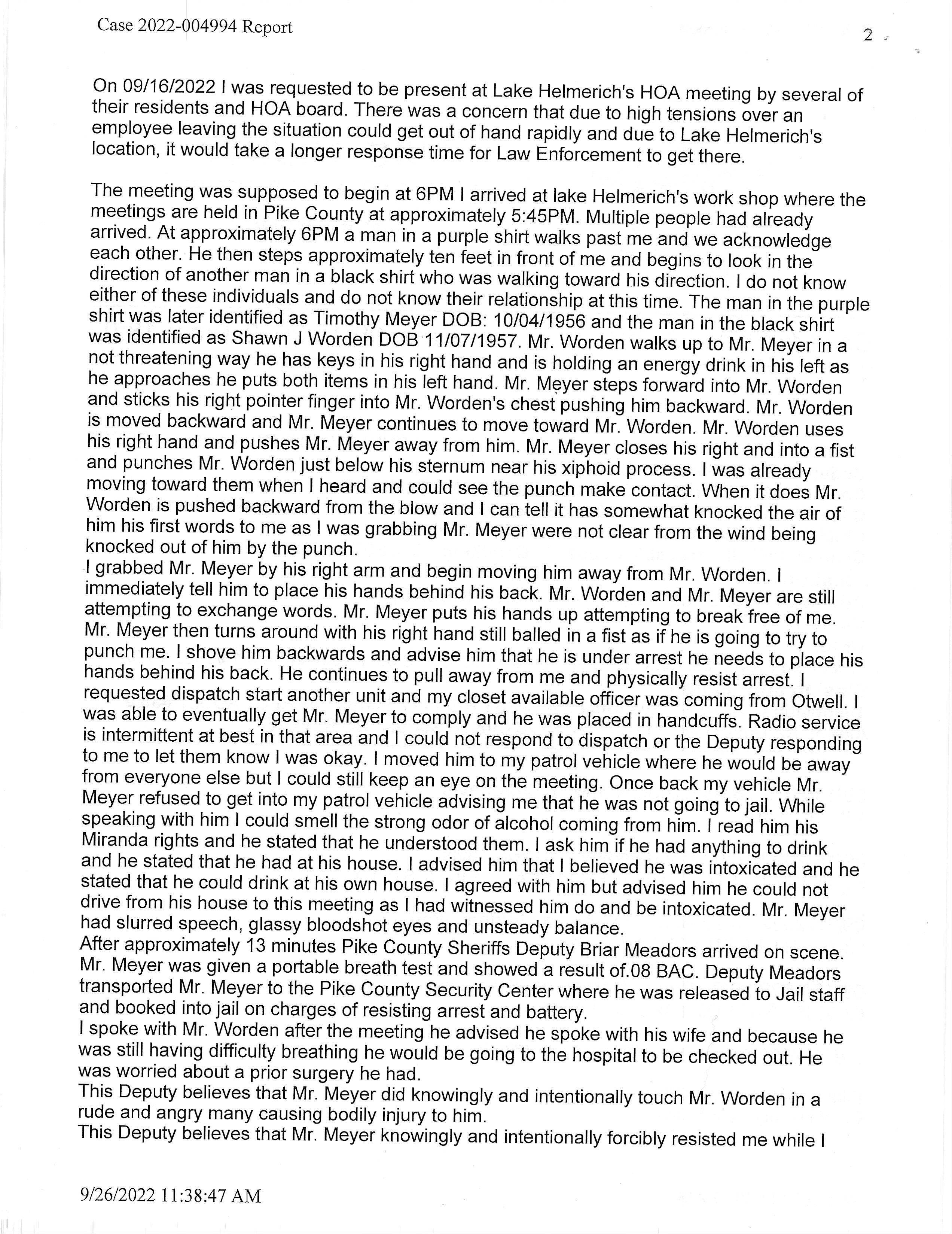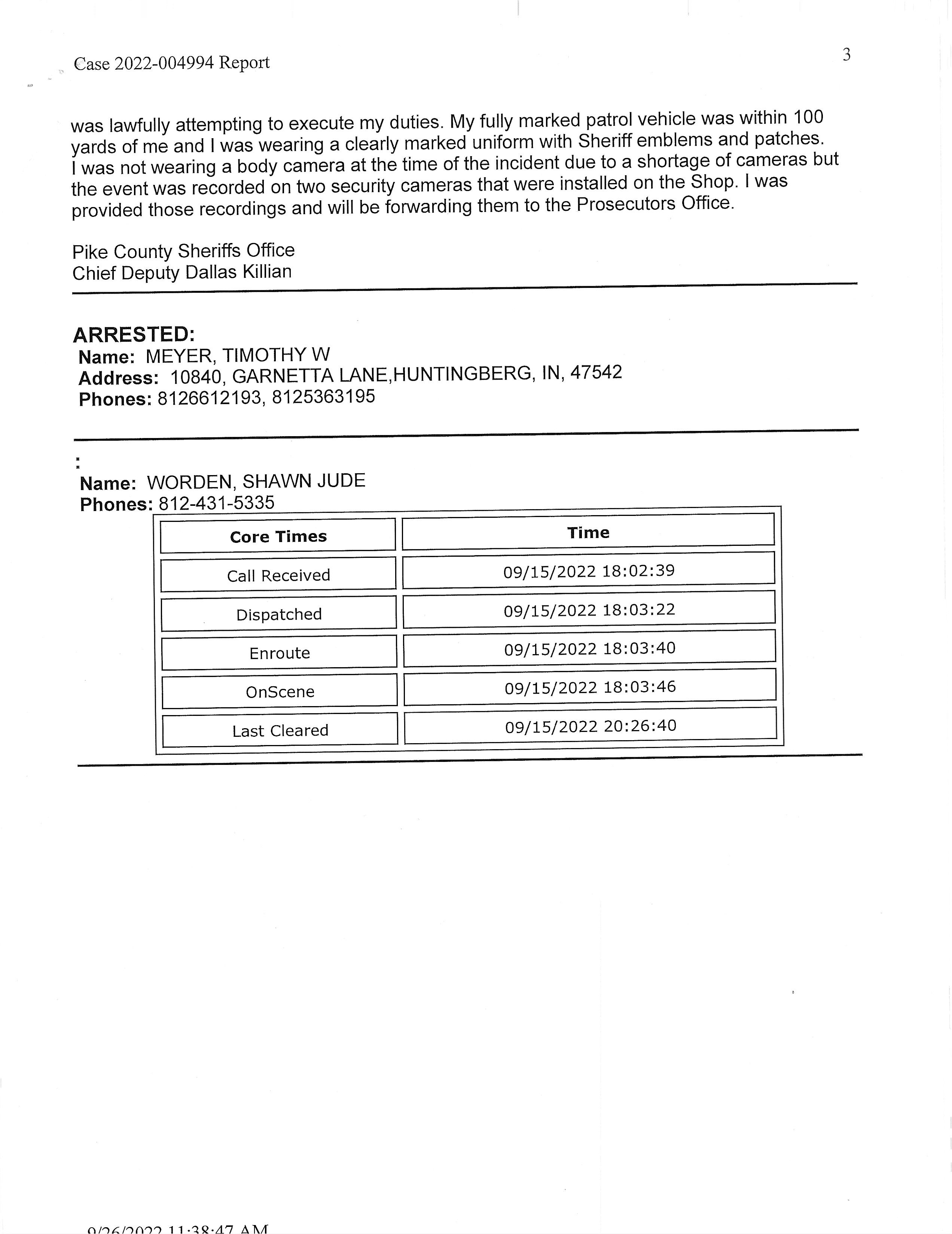 On September 22, 2022, Board member Tim Meyer told the LHV board that he barely touched the victim in the stomach and that he didn't remember assaulting the victim. He told board members, the reason he confronted the victim was because of a confrontation that stemmed from the September 6, 2022, board meeting between himself and Villager Shawn Worden. Board members along with villagers at the meeting were able to break up the altercation.
Mr. Meyer told board members how Mr. Worden had apparently seen Meyer's wife and had issued an apology to her and asked her if she would relay it to Mr. Meyer. Meyer told board members he was angry because the victim, "Did not have the guts to apologize to my face."
Past board member Robert Bowman, after reviewing the video and reading the police report, confronted Meyer during the meeting, believing that Meyer's actions were unprofessional and that he believed that (Meyer) was sugar coating his statements and denying his actions to the board.
It was also brought up that Meyer had initiated a confrontation with Bowman many weeks before in August 2022, threatening him with physical violence. Bowman stated he had to threaten to call the police. Bowman stated he notified the board president Sarel Pretorius with a complaint against Meyer and sent the president a copy of a application for a restraining order along with the audio recording of the confrontation. ` Bowman was later convinced by other board members to try to make peace. Bowman dropped the restraining order.
At the September 22, 2022, meeting, other board members tried to distance themselves from any involvement by stating, because he (Meyer) was not yet inside the building and only outside the door, the board should not have responsibility regarding his actions. Stating this was between the victim and Meyer. Bowman stated that he had been previously asking members for support in asking for Meyers resignation or at least some form of sanctions or corrective action against Meyer.
Bowman stated, "We can't have a board member who is prone to violence on the board. This was his third time." Both Pretorius and Hilsmeyer stated that the board just needs to ignore the incident and move forward.
Bowman later resigned from the board.
UPDATE: July 20, 2023, Mr. Meyer plead guilty to disorderly conduct charges July 20th after making a plea deal on charges related to the September 15th, 2022, assault. Pike Circuit Court Judge Jeffrey L. Biesterveld accepted the plea agreement to dismiss the charges of battery and resisting arrest if Meyer agreed to plead guilty to disorderly conduct. Judge Biesterveld sentenced Meyer to (180) days imprisonment, he received 4 days total credit for time served. The remaining time to be served was suspended (176) days. All of which must be served on probation.
Meyer was given the following terms and conditions:
Have no contact (direct or indirect) with the victim, Shawn Worden.
That he behaves well.
That he refrains from the use of alcoholic beverages in any form or quantity and that no alcohol be in his residence at any time during the period of probation or electronic monitoring.
That he submits to random drug screens/urinalysis as directed by the Probation Officer. Any positive test, refusal, or diluted sample, or providing or attempting to provide a sample that is not what is requested could result in immediate incarceration.
That he refrains from possession of a firearm, destructive device, or other dangerous weapon and that no weapon be in his residence at any time during the period of probation or electronic monitoring.
That he shall complete an anger management program.
That he completes a drug/alcohol assessment and any recommendations resulting from the assessment.
Copy of Pike Circuit Court Sentencing Order
Copy of Pike Circuit Court Order of Probation
Villagers deserve to have a board that acts professionally and appropriately. Understand that all suspects are assumed innocent until proven guilty in a court of law and we are not claiming any certain party is guilty nor innocent. You make up your own mind.
All the above information is public information.